Ask The Experts 2022
FAMILY DENTISTRY
HOOPER FAMILY DENTISTRY
WHEN SHOULD I BRING MY CHILD TO START SEEING THE DENTIST?
A good rule of thumb is if you can see that their "baby" teeth are coming in, then it is probably a good time to go ahead and bring them in to see a dentist for a simple  exam. The dentist can not only check their new teeth coming in, but also, and often, more importantly, their tongue, tonsils, and their airway. They also can check to see if any tethered tissues may be causing problems with nursing, feeding, talking, and even proper breathing.
WHAT ARE TETHERED ORAL TISSUES?
Tethered oral tissues or "TOTS" for short are areas where there are restrictions in movement due to excessive tissue attachment. Everyone has probably heard the word "tongue-tied" at some point in their lives. Believe it or not, this is a real diagnosis and condition for lots of people! Along with tongue-ties, there are also lip ties on the top lip! Infants born with these 'TOTS' can struggle tremendously nursing due to the inability to get a good latch. They also may snore at night due to the tongue not moving freely, thereby creating an airway concern. When they get to the point of trying to talk, they may struggle to speak properly and enunciate certain words.
HOW CAN THESE "TIES" BE FIXED?
There are a couple of ways these problems can be revised in your child, and the sooner the revision, the better. One of the best options to "fix" these lip and tongue ties is with a medical laser. Similar to the way tattoos can be removed, we can use a special laser that can "cut" the tissues. It sounds like a terrible process, but actually, it is far easier than the traditional method of using either scissors or a scalpel. The process as a whole takes no longer than 30 seconds with a properly trained doctor who has the right equipment. Lasers not only cut and relieve the restrictions, but they also cauterize the wound as the cutting is done, creating almost little to no bleeding. There are other post-procedure exercises the parent needs to perform with the child to prevent any reattaching of the tissues, but the reattachment after having laser revision is much lower than in the traditional method of using scissors or scalpel. If you have questions, it's always best to consult with your doctors before deciding which method best fits your baby's needs!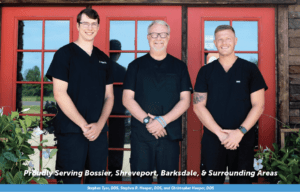 5148 AIRLINE DRIVE, BOSSIER CITY • 318.742.2272 • 1613 JIMMIE DAVIS HWY SUITE 1, BOSSIER CITY • 318.752.3939 • WWW.HOOPERFAMILYDENTISTRY.COM