Local Company revives run down office and warehouse to a sleek new work environment.
BY MYRON GRIFFING
Everyone in the Shreveport Bossier area has heard of and may have even used Anti-Pest.  
They've been helping folks in Caddo, Bossier and DeSoto parish rid their homes and businesses of unwanted critters, creepy crawlies, and winged terrors for almost 75 years.
Anti-Pest began at the corner of Stoner Avenue/Youree Drive in 1950.  In 1955, a young man named J.T. May started with the company and quickly rose through the ranks.  He purchased the company in 1982 and ran it until selling it to his daughter, Michelle, in 2012.  Michelle and husband Jarrod Horton also purchased another local business, Porter's Carpet Cleaning, in 2013 and moved Anti-Pest to Professional Drive in South Shreveport.  In 2021, a larger facility, owned by High-Lifter, opened just around the corner from them.  They purchased that building with plans to gut it and create a completely renovated corporate headquarters for Anti-Pest!  
This is where I, Space: interiors, enter the picture.  I've previously worked with the Hortons at their home, so we already had a professional relationship.  I remember walking through the space just after they purchased and thinking, "gracious, this place has a loooonnng way to go!"  It was a mess and that's being nice.   It is always exciting, yet challenging, to start with a blank slate.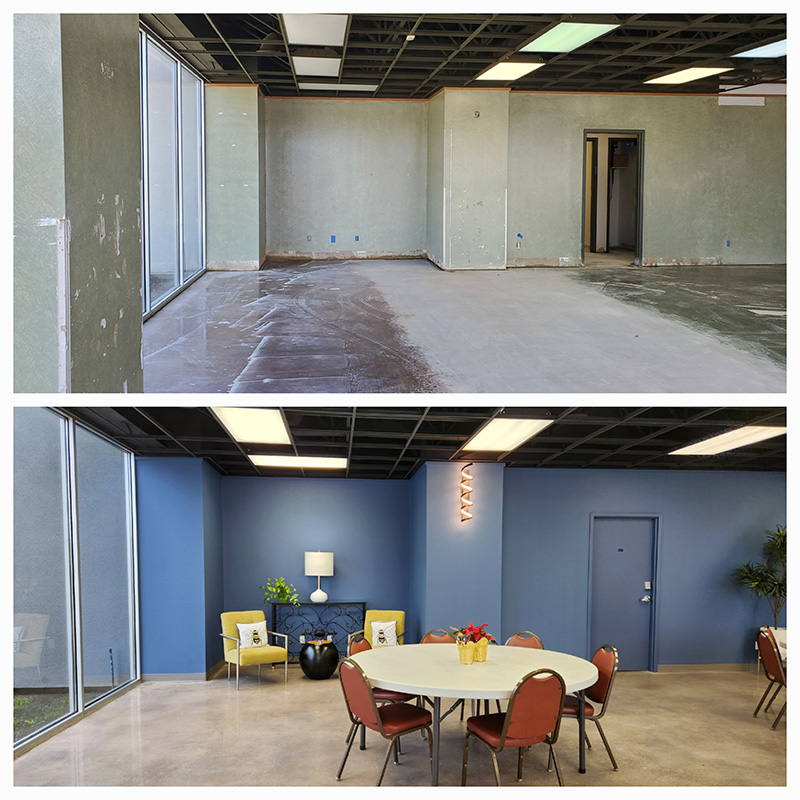 I met with Jarrod and Michelle several times to discuss their wants, needs, colors, etc., and from there created a soothing palette of warm grey, ivory, taupe and a bold Navy blue as an accent color.  Michelle wanted a modern vibe for the furnishings and artwork.  As a designer, it's imperative to make certain you give your clients what they want but also, push their boundaries a bit further.  
Deconstruction started in early 2022 and the project went on for what seemed like forever.  It only took about seven to eight months.  This is an eternity for a designer because we've already envisioned what the space will look like but must wait on construction, materials, and all the little elements before getting to a point where the "pretty" stuff starts happening.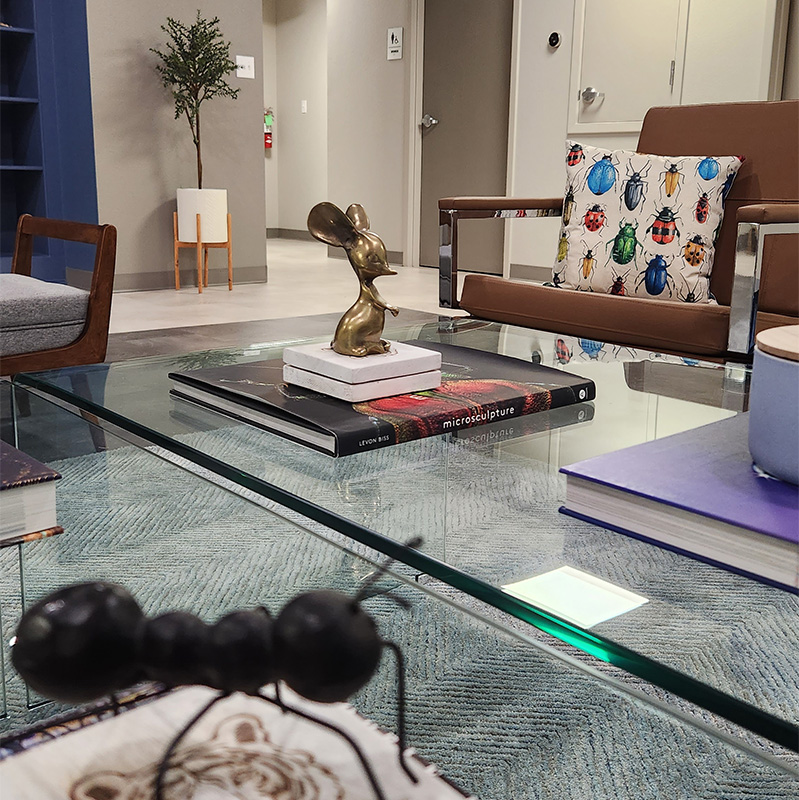 At that point, things start moving quickly.  It's just a matter of unboxing, assembling, and placing items. The Hortons are amazing business minded folks but also have a "fun" side to how they operate.  This can be seen in the bug-themed artwork they already had plus the pillows and art I brought in. 
"I want people to walk in and be impressed by how professional the place looks, but also feel comfortable within the environment", Michelle said. 
By far, the most impressive area is the administrative common space.  This space has new luxury vinyl tile (LVT) in ivory and taupe, custom shelving, and a "pit" seating area.  We selected the tiles because they looked like a slice of wood.  This was a nod to termites.  I added 4 leather and chrome low-slung modern chairs, two mid-century style benches and two all glass waterfall coffee tables.  Two mercury glass cubes were brought in between chairs and quickly became favorites of Michelle.
The shelves were painted and filled with original exterminator equipment and photos of the company from the 1960's.  We also added more modern pieces and artwork. I threw in a few bug-themed pillows and voila, the seating was complete.  Other standouts are the kitchen and breakroom areas, (there are two) we added a smoked oak, wood grain laminate for a clean, modern vibe with leathered quartzite countertops.  The tactile quality of leathered countertops is best conveyed by touching, but I can say that it feels slightly dimpled.
The end results turned out phenomenal and everyone involved is thrilled!  It's always a pleasure working with folks that know what they want but are also open to new ideas.  This collaboration is an exemplary example of that.  
I could write several more pages on what a pleasant experience this project was to work on, but don't wanna "bug" ya.