Cross Lake—one of northwest Louisiana's prized waterways— is an 8,575-acre man-made lake built in 1926, and is the major water supply for the City of Shreveport, Barksdale Air Force Base, and many other surrounding communities. Partially surrounded by forest and wetlands, moss covered cypress trees line the banks of this popular open lake with an unlimited access to nature and endless recreational possibilities including sailing, power boating, fishing, and waterskiing.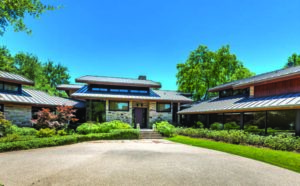 There, tucked away on two lots totaling nearly two acres at the tip of Squirrel Point— nestled into the existing hillside—rests a two-story home in the midst of a thick buffer of trees. This beautiful mid-century estate is guaranteed to offer unparalleled peace and relaxation. The tranquil setting is provided.
Designed by renowned local architect Jonathan Evans, the clean lines if this style, along with the attention to fine architectural details, makes for peaceful surroundings as the earth tones of the stone pair flawlessly with the landscaping. With nearly 11,000 square feet of living space—10,813 square feet to be exact—this 4 bedroom, 9 bathroom estate offers breathtaking and picturesque views from nearly every room.
The main entry is off the motor court. Avoiding the creation of traditional hallways, opening up indoor space, and providing stunning views all at once, the glass window walls of the home are one of its most striking features as you enter, all Photography BY JEFF MCGEE BY ADAM BAILEY Wrapped in walls of glass, this stylish home presides over the pristine waters of Shreveport's beloved Cross Lake. Inspired by mid-century modern styling, it is a sophisticated work of art with its mix of textural natural materials and crisp clean lines. STUNNING MANSION WITH PANORAMIC WATER VIEWS extending from floor to ceiling. The first room you encounter is an enormous gathering space. For its size, it's quite warm and inviting—with the focal point being the two-story stone fireplace, which is located in the center of the room. Add in the built-in shelving, and spiral metal staircase—there is a coziness to this central space.
Aside from providing the prime focus, the fireplace also has the effect of both cooling the space during the summer months and providing an extremely effective source of warmth in the winter—not just as a fireplace but also as a heat sink drawing warmth from the low sun.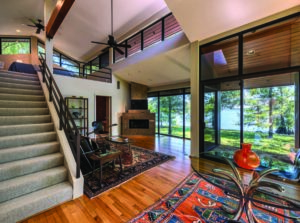 Its open-floor concept, with its high walls, vaulted ceiling and sharp architecture, is the perfect spot to stretch out and relax after a long day. Its proximity to the kitchen and dining room make this the gathering place of the home— perfect for entertaining. The metal spiral staircase effortlessly ascends to a mezzanine level, allowing onlookers to gaze upon the gathering room, or through the bank of floor-to ceiling windows that look beyond onto Cross Lake.
From the gathering room, one can seamlessly flow right into the gourmet kitchen—its vaulted ceiling is complemented by top-of-the-line appliances including Viking gas range, built-in Subzero refrigerator/freezer, custom cabinetry and granite counter tops. The color palette contrasts the uniform walls, floors, and ceilings—each within their own right providing focal points for each transition space.
The oversized kitchen bar doubles as the breakfast area and, aside from its 180-degree panoramic views of the lake, is the perfect informal gathering spot—not only for eating, but for entertaining as well.
The gathering space also includes the dining room, butler's pantry and an oversized bonus room—all lying adjacent to the enclosed swimming pool. This bonus room is multi-function, and could be used in an assortment of ways—a gym, large office or multi-media room. It, too, is quite spacious and can entertain a large crowd.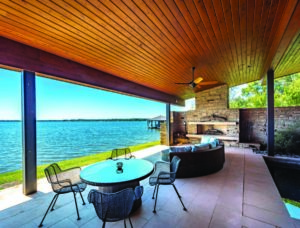 Just outside is an enlarged patio— running the length of the wing—adds pure perfection to the symmetry of the house, and lies under the protection of the roof. This spacious, open-air covered patio, with fireplace, is one of the notable features of the home. Along with the enclosed swimming pool, both are perfect for year round use and provide some of the most serenely breathtaking views of the water beyond the property. With its large stone pavers, steel columns and outdoor, stone fireplace—these covered sitting areas provide a picture-perfect space for outdoor entertainment. Anyone could easily enjoy dipping their toes in the saltwater pool, or enjoying a book by the fire, without worrying about sun exposure.
Next to the pool, a fireplace and stone wall span an entire side of covered area, providing privacy to those inhabiting the area.
The bedrooms are located on both sides of the house. On one side is the master suite, along with its private soaking tub and ceiling mounted shower head. Along with his-and-her baths, walk-in closets and sitting areas, every space has easy access to shimmering lake water scenes. But don't be fooled. While each bedroom follows the same general decor pattern as the rest of the home—with modern- style furnishings, accents and fixtures—each bedroom also has a few unique details which differentiates it, mainly its own unique views of the lake. This is like having a personal retreat within its bedroom, in-and-of itself.
There's also a second loft, perfect for kids with twin beds.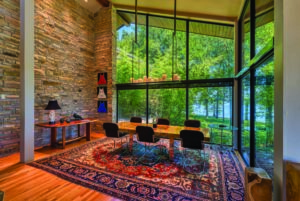 A personal home library (which could also be another bedroom, if desired) is located on the second floor and doesn't just display books. Its oversized bookshelf, along with built-in cabinetry, and shelves. The stunning mix of décor, along with its wet bar and stone fireplace, elevate it to a whole other level. The space is soft, low contrast and incorporates nature with its sleek style.
Car enthusiasts will appreciate the concrete-lined driveway, grand motor court and four-door garage, which is ready for any fine car collection—with additional space available for motorcycles, watercraft, or ATVs. The original garage was converted into an enormous storage space, complete with shelving, with room left over to tinker.
Wa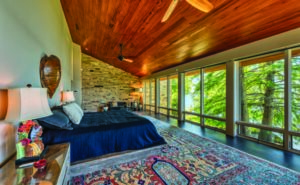 ter enthusiasts will also find a covered boat launch on the property that is perfect for private use. The property's direct lake access and spacious outdoor living spaces feature lush green lawns, ample foliage and several areas that can easily accommodate any large group or intimate gathering.
Interested in buying this dreamy estate? Believe-it-ornot, it's currently on the market. Who's ready to move in?