When local Shreveport resident (and antique furniture aficionado) Sissy Johnson needs a piece of furniture, her first stop is her favorite consignment shop on Youree Drive—known affectionately as Uniquely Yours. Over the past 15 years, Johnson has filled her home with items she purchased there. "The consignment shopping in Shreveport is better than Dallas or Atlanta if you ask me," she confidently says. "Uniquely Yours of is one of the best around."
Let's be honest, who doesn't love to buy nice things. But in today's world of inflated prices, shopping can be expensive—especially when you're looking to buy furniture and interior decorations for your home. So, count Johnson as among those in the know. Whether it's a little boutique vintage store, a cluttered thrift shop, or a consignment showroom, there's a special feeling in finding a perfect gem—even better if it's a good deal. And while consignment shopping can be as unpredictable as it is satisfying, let it be known that the Shreveport-Bossier area is an oft-underrated mecca for the sustainable art of consignment shopping. 
For nearly two decades, Uniquely Yours of Shreveport has set the standard (and the style) for Shreveport-Bossier's luxury consignment—coming a long way from where it all began as a stand-alone furniture store. Fast forward almost 20 years, and Uniquely Yours is one of the best spots in the city for consignors and shoppers alike. From quality dining-room tables and bedroom sets to quality home decor, Uniquely Yours specializes in premier home furnishings and décor. Its 7,000-square-foot showroom is stocked with traditional and contemporary pieces that are prepped, polished and ready to be taken home. "People come to us for name-brand items that are secondhand but look new," says Jeff Wagner, who became the sole owner in August of 2017. Wagner is very selective about what he brings in for consignment. "I like unique items that come from people who are world travelers, but I also carry big high-end furniture and mid-century pieces such as Henredon, Century, Baker, Marge Carson, and Ambella Home."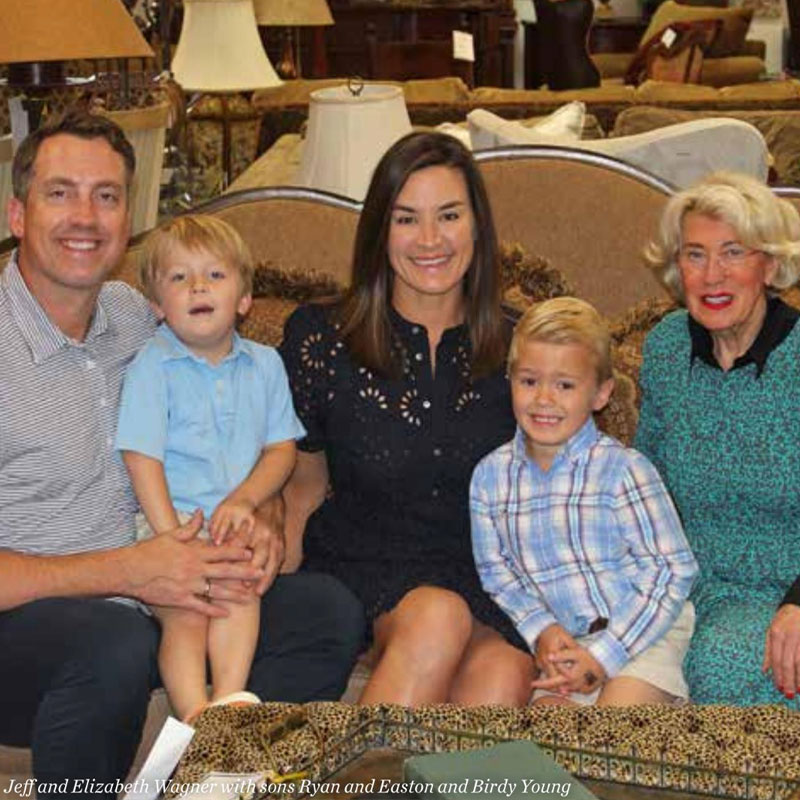 Frank and Brenda Stinson first started Uniquely Yours in 2008. But, after several years of average sales, the furniture market wasn't what they thought it to be—so they evolved the business into a showroom expertly arranged with charming consignment pieces. Today, Wagner's connections in New Orleans and Dallas provide the store with a steady stream of barely used high-end furnishings, and his work with local consigners allows him to sell a wealth of home accessories, lamps, fixtures, rugs, and consoles. Relationships with wholesalers and design consultants allow Uniquely Yours to show and sell many discontinued sample items.
Designers at Uniquely Yours can help decorate for any occasion. "We may have just the right piece for your new space and can re-sell furnishings that no longer fit your lifestyle," says Wagner. Uniquely Yours moves items quickly, so consigners don't need an appointment. Select items are accepted for a 90-day consignment period at a negotiated price. If customers don't find what they're looking for, Wagner can add their name and desired items to a wish list. Customers on the wish list get the first opportunity to purchase sought-after pieces that come into the store.
"I love people and I love beautiful things," says Wagner. "We want to work with customers and consigners to make everybody happy. At Uniquely Yours, we take pride in providing the best shopping experience in a unique resale environment. Whether you're looking to update or completely redecorate, we offer like-new home furnishings and one-of-a-kind collectibles and fine furnishings and decor. With merchandise arriving daily, you'll always be able to find something new and unique!"
"Stop by to see everyone's favorite local celebrity, "Birdy" Young. She is a staple at Uniquely Yours, who is expertly knowledgeable about furniture and will never forget a name!"