Mardi Gras. Two little words with an infinitely large explanation.  For different people, it means different things—an event, an idea, a day, a way of life, a piece of history, a state holiday, or a million parades and countless memories. If you think you know Mardi Gras, think again!
1."Laissez les bon temps rouler" is the official greeting of Mardi Gras.
Sooner or later, you're bound to hear the phrase "laissez les bon temps rouler" (pronounced lay-say le bon tom roo-lay) over and over again at Mardi Gras celebrations. It means "let the good times roll" in Cajun French.
2.Carnival is a season. Mardi Gras is a day.
This year, Mardi Gras festivities are set to take place on Tuesday, February 21 around the world. However, truth be told, preparations for "Carnival" begin months in advance, sometimes years. It's safe to just assume they never stop. 
The Carnival season will officially start the night of January 5th (known as Twelfth Night) and last until Fat Tuesday, which translates into "Mardi Gras." Fat Tuesday—also known as Shrove Tuesday—marks the final day of feasting and celebration before the Lent season begins on Ash Wednesday (or 40 days before Easter). This explains why the actual date of Mardi Gras can change depending on the year. Sometimes there is a long Mardi Gras season, and other times a short one. When in doubt on figuring out the date of Mardi Gras, always count back from Easter.
3.Carnival is celebrated not just in New Orleans, but all over the world.
Louisiana is the only state in which Mardi Gras is a legal holiday—and parades and festivities will take place all over the state—from New Orleans, Baton Rouge, and Lafayette to Alexandria, Lake Charles, Monroe, and, yes, right here in Shreveport-Bossier. However, elaborate carnival festivities draw crowds in other parts of the United States during the Mardi Gras season as well, including Mobile, Alabama, and St. Louis, Missouri. Each region has its own events and traditions. Across the globe, pre-Lenten festivals continue to take place in many countries with significant Roman Catholic populations.
Brazil's weeklong Carnival festivities feature a vibrant amalgam of European, African, and native traditions. In Canada, Quebec City hosts the giant Quebec Winter Carnival. In Italy, tourists flock to Venice's Carnevale, which dates to the 13th century and is famous for its masquerade balls.
Known as Karneval, Fastnacht or Fasching, the German celebration includes parades, costume balls and a tradition that empowers women to cut off men's ties. For Denmark's Fastevlan, children dress up and gather candy in a similar manner to Halloween—although the parallel ends when they ritually flog their parents on Easter Sunday morning.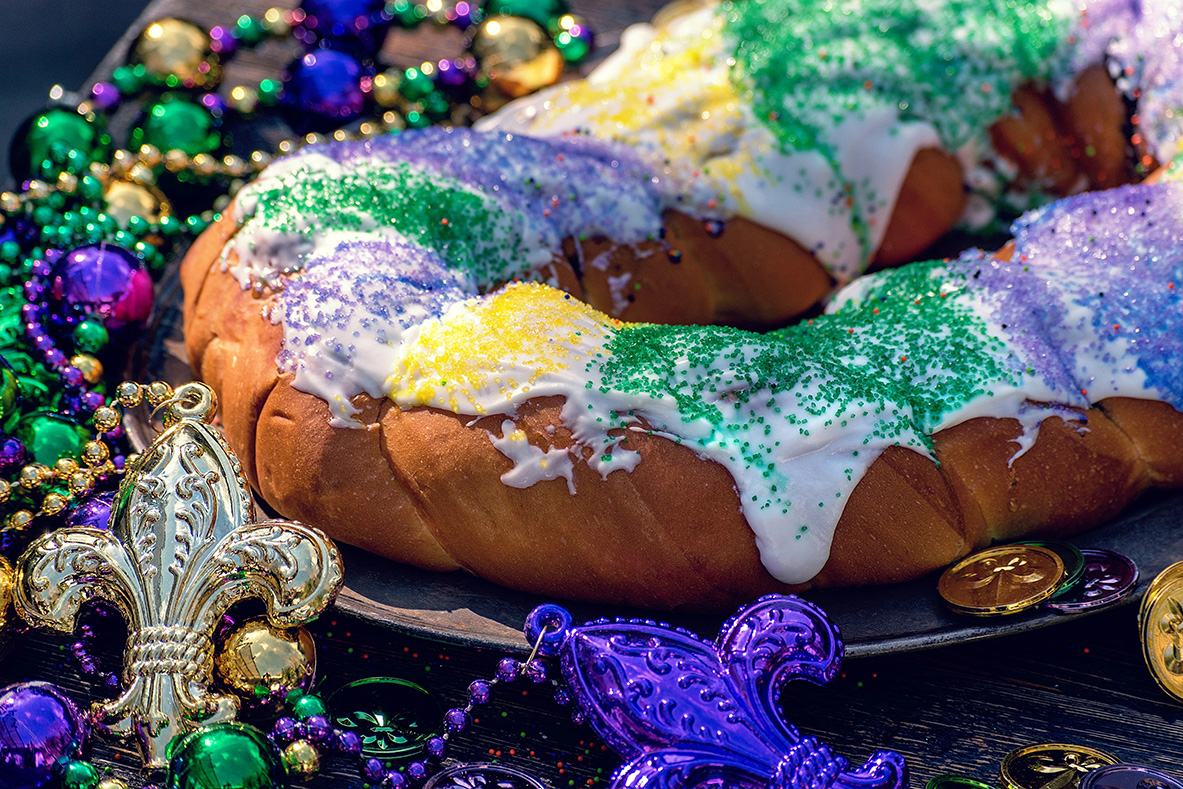 4.The first North American Mardi Gras was celebrated in Alabama—not Louisiana.
French-Canadian explorer Pierre Le Moyne d'Iberville arrived in what is now modern-day Mobile, Alabama, on Fat Tuesday, 1699. He named the location Point du Mardi Gras and threw a little party. In the years that followed, French travelers would come to the spot explicitly for Fat Tuesday celebrations. To this day, Mobile, Alabama, claims to hold the oldest Mardi Gras celebrations in the country.
5.The traditional colors of Mardi Gras are purple, green, and gold. And there's a reason.
It has been rumored that when Grand Duke Alexei visited in 1872, his welcoming committee handed out purple, green, and gold beads to the partygoers that year, as they were the colors of his family. The trio of shades came to symbolize the festivities and were later given meanings: purple for justice, gold for power, and green for faith.
6.Mardi Gras became the celebration we know today because of a secret society.
Since its first impromptu celebrations in the early 1700s, Mardi Gras was regularly cancelled or banned for its destructive drunken parties—that is until 1837, when a New Orleans' secret society known as the Mistik Krewe of Comus aimed to elevate the chaotic experience, replacing the debauchery with lavish balls and parades. Eventually, the "Fat Tuesday" celebrations of New Orleans garnered much support and enthusiasm, later establishing itself as the Mardi Gras capital of the country.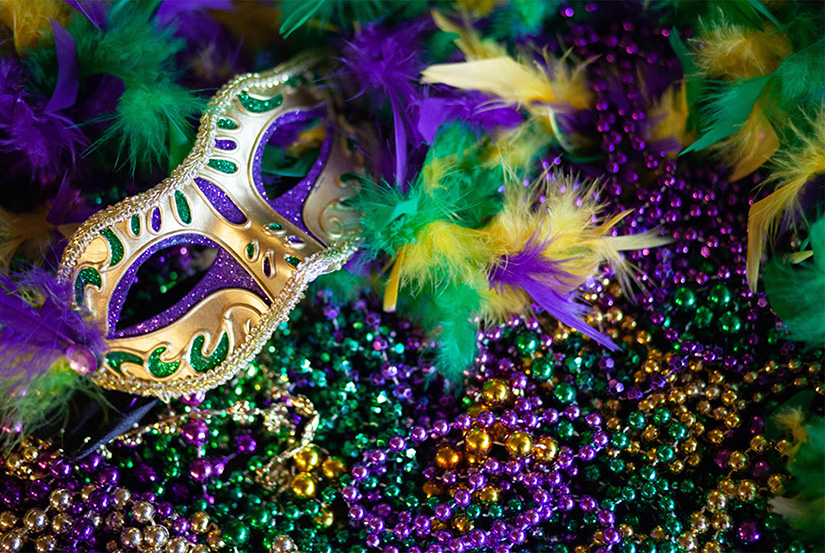 7.What are Mardi Gras krewes? And what does it cost to join?
The Shreveport-Bossier area is home to some of Louisiana's largest parading Mardi Gras organizations—known locally as Mardi Gras clubs or "krewes" (pronounced the same way as "crew"). These krewes produce a busy calendar of parties, parades, and other events each Carnival season. Many krewes act as secret societies and make sure their participants' identities are never publicized (which is why krewe members wear elaborate masks during parades). Each Krewe builds a float to represent their specific theme on parade days and features a celebrity guest to regal their audience.
Want to join a krewe and ride in a parade? Joining a krewe in Shreveport-Bossier is really quite simple. While dues vary, membership typically allows you to ride in the parade and attend the ball and other events throughout the year. For example, membership in the Krewe of Centaur—the largest Mardi Gras Krewe in north Louisiana—are $150 per person a year. Membership includes the opportunity to ride a throwing float or be in a walking-marching group in the parade, attendance to monthly meetings, full voting privileges, Krewe parade liability insurance, monthly newsletters, float group parties and events throughout the year, discounted ticket costs to Krewe parties and events. 
Due to the membership size of many of the krewes—some over 500 members—float ridership privileges are treasured and are becoming harder and harder to come by. The sooner you join in the new Mardi Gras year, and sign up for a position, the more likely it is you will find a float position.
Also, it's important to remember if you do get the opportunity to ride in a parade—you have to pay for beads and trinkets for the entire parade route, which aren't cheap.
8.Why do krewe's have Royalty?  
On its surface, the election of Royalty may seem comical. However, being chosen is a very special honor and is taken very seriously by krewes in the area. Mardi Gras Royalty are typically elected because of their contributions and standing in the community. Being chosen to represent a Krewe as a King or Queen is an honor that announces to the community at large that these people have made our city a better place and we recognize their hard work and dedication. So, be sure to raise your cup and toast every King and Queen this Mardis Gras season!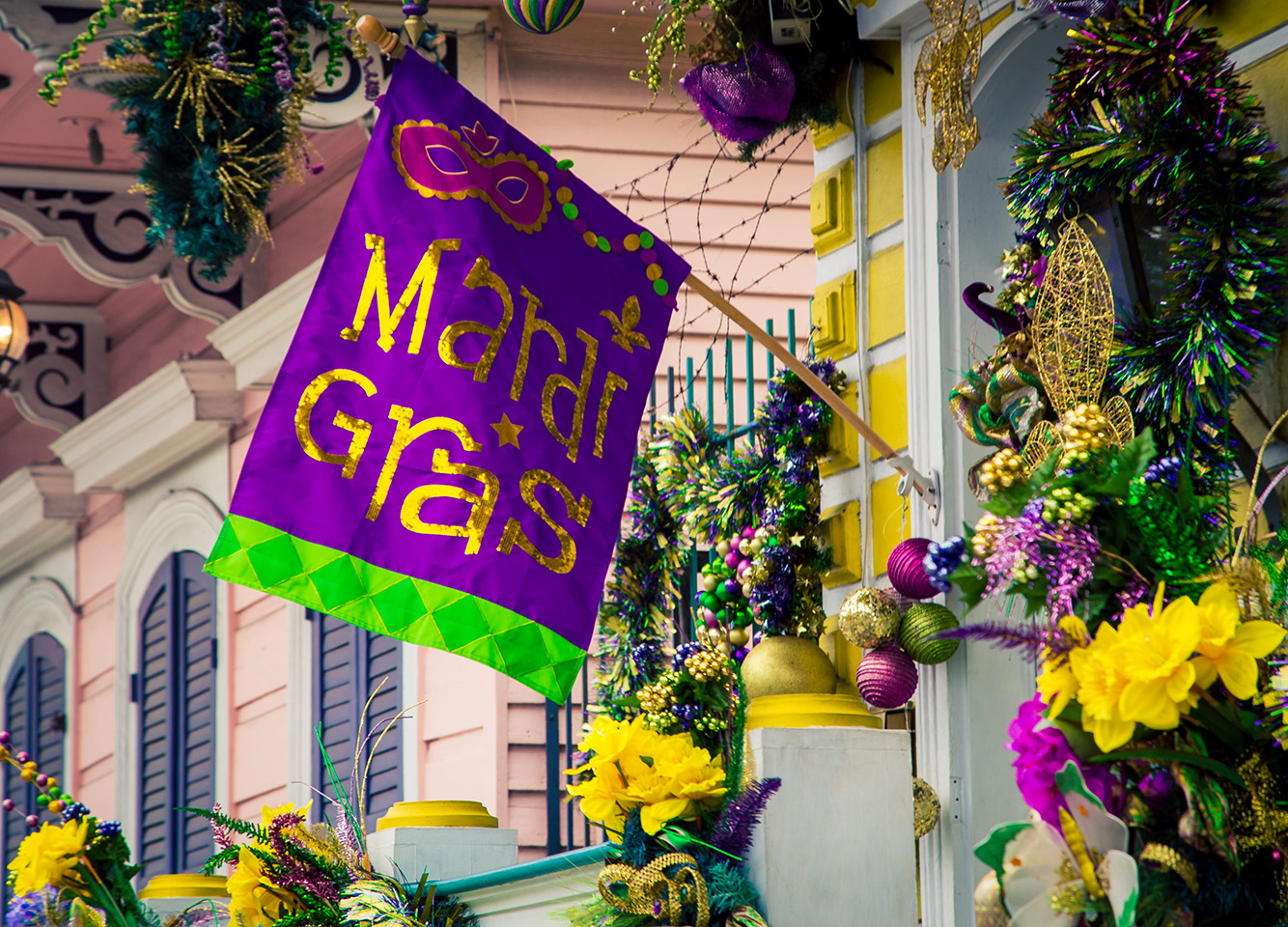 9.Each Krewe hurls party favors into the crowds.
Floats notoriously give out "throws," which are exactly what they sound like—objects thrown into the crowd.  Anything and everything can be thrown from hot dogs to stuffed animals to plastic cups to gold doubloons to MoonPies. Beads are the most ubiquitous throws, which are given by almost everyone. A known code of asking for throws is to shout the phrase "throw me something mister"—which is probably gendered because the first women's parade did not hit the streets of New Orleans until 1941.  
It's considered a great honor to receive a throw.  This custom—the throwing of beads and fake jewels—is thought to have started in New Orleans in the late 19th century when a Carnival king, who may or may not have been dressed liked Santa Claus, threw fake strands of gems and rings. Due to the popularity of these "throws," other krewes soon followed suit, which only makes sense—before that krewes threw mostly food and dirt. By the early 1920s, krewes were regularly handing out tiny trinkets to the parade followers. The original Mardi Gras beads were made from glass. Today, if you're lucky, you can still catch a krewe throwing one of these vintage beads. 
10.The King Cake, a traditional dessert, has biblical roots. What is the meaning of the baby?
By far the most delicious of Mardi Gras traditions is the King Cake and dates back to the Medieval Times when French, Belgian, and Spanish cultures commemorated the 12th day of Christmas with gifts and sweets. And, like many Christian folk traditions, it may originally have had pagan origins. During Saturnalia—the ancient Roman winter solstice celebration of the deity Saturn—the person who found a special item hidden in a cake would be "king of the day."  Biblically, the kings during this time would have been visiting the newborn baby Jesus—bringing gifts and sweets of their own. That's where the "king" in king cake comes from. However, the precise reason behind the tiny baby figure in the cake may be a little bit more down-to-earth.  In the 1940s, a New Orleans baker chanced upon a surplus supply of French porcelain dollhouse figures that first gave the cake that local spin.
Traditionally, a king cake is a coffeecake type pastry, fried and doughy, glazed and frosted, typically in the Mardi Gras colors. They're usually circular and braided, to resemble a King's crown. Most cakes are baked with a tiny baby figurine on the inside, and whomever finds the toy—as tradition holds—must host the next big party (or at least buy the next year's king cake).
Just remember … pace yourself!
Carnival is a season; Mardi Gras is a day. It's unlike anything you've ever experienced—and everyone experiences it in their own way, whether ensconced along a parade route, hopping between house parties, or wandering the festive streets with family and friends. However you do it, remember it's a marathon, not a sprint. 
Laissez les bon temps rouler!