When you think of wedding transportation, what comes to mind? Do you imagine valet guest parking, arriving in a limousine, the classic "JustMarried" send-off car, or are you on the hunt for wedding transportation ideas with a little more flair?
If you're looking for out-of-the-box transportation ideas for the big day, look no further. Nothing is off the table. Read below and explore elegant entrance ideas, creative group travel options, and some of the coolest wedding transportation ideas you've ever seen.
One-of-a-Kind Wedding Transportation Ideas
Want to make a grand entrance, travel between wedding events, or get sent off in style using a unique mode of transportation?
1. Antique Luxury Car
Don't arrive to your wedding in just any old car; an antique is a glam way to get yourselves to the ceremony and reception and it'll create the perfect backdrop for classic black-and-white photo ops. While any 'antique' would do, a few suggestions include a vintage Rolls-Royce, a 1937 Bantam, a 1959 Cadillac Coupe deVille, or even a 1967 Volkswagen Beetle.
2. Vespa
Ride off into the night on the back of a Vespa! They're easy to maneuver, environmentally conscious, and you'll easily get plenty of frame-worthy photos and memories to look back on. Just make sure you practice riding in a dress and heels before your wedding day.
Ricky Rogers and Colleen Cowley Rogers. Photography by Scarlett and Louise Michaud Photography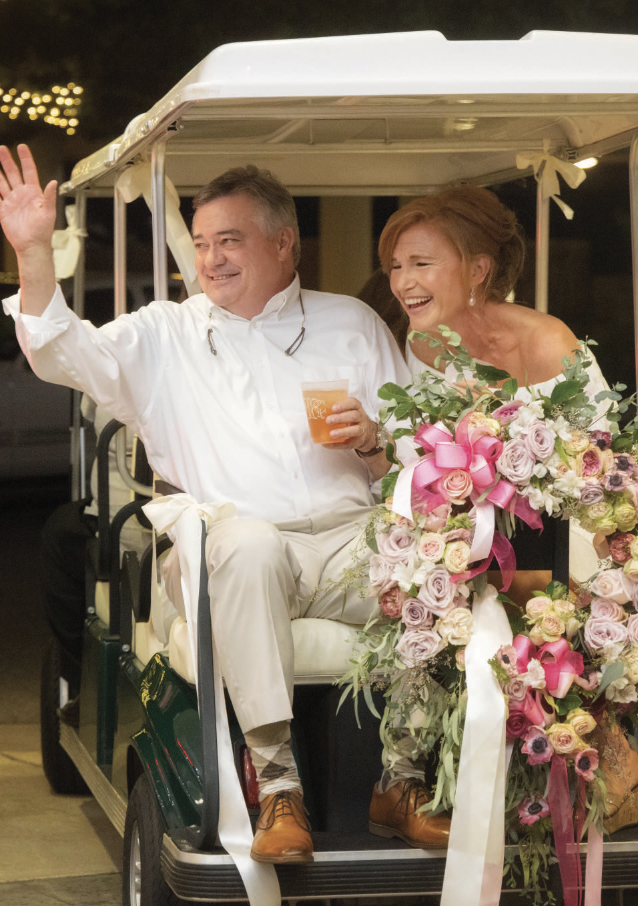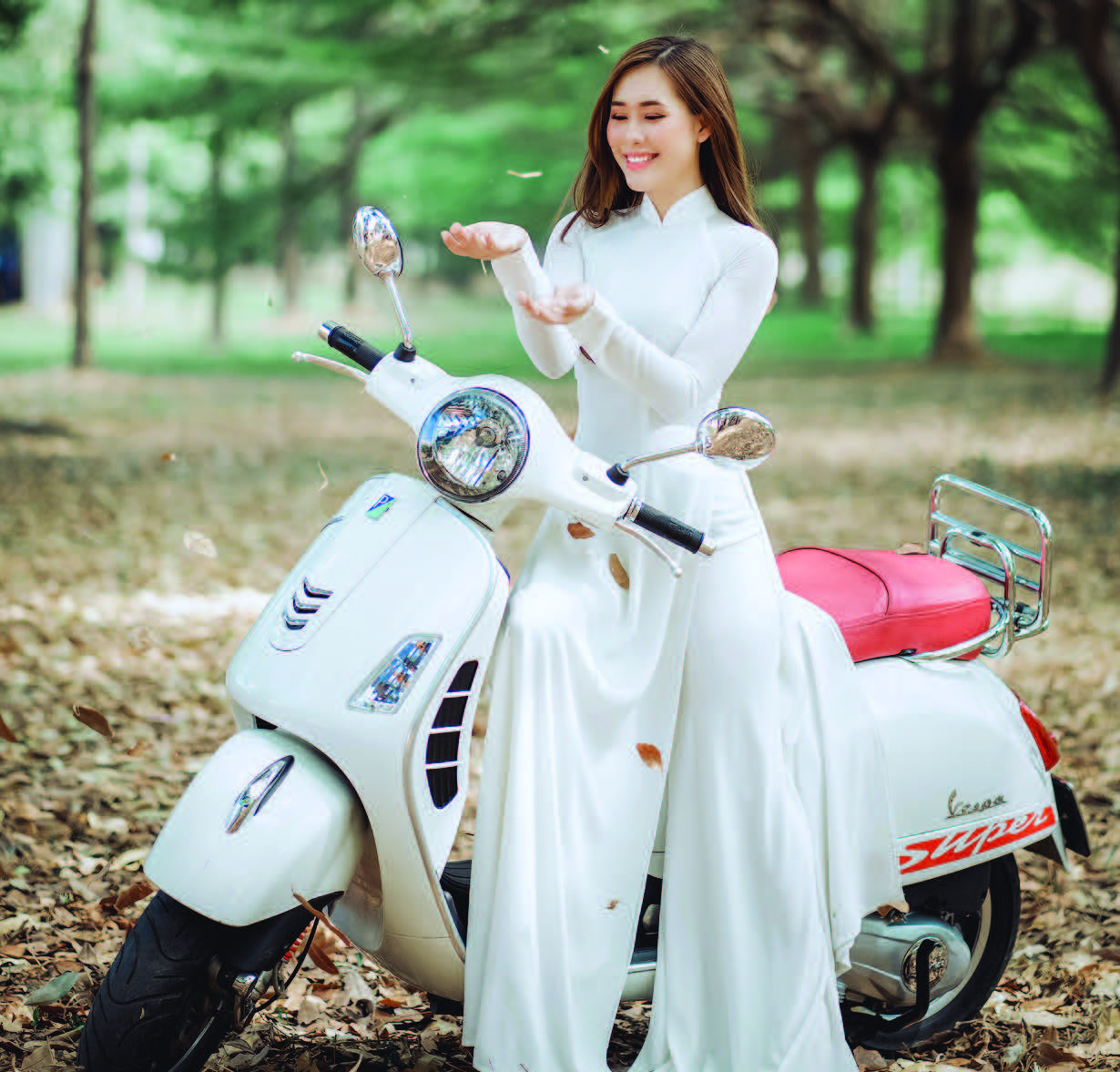 3. Golf Cart
If you or your partner are big fans of golf, are getting married at a country club, or are hosting a wedding reception that requires a long walk from the ceremony location—use golf carts as wedding transportation. Some venues are quite large, and hosting events in different venue loca-tions could require an uncomfortably long walk for some of your guests. Additionally, golf carts make it easy to move around quickly without breaking a sweat.
4. Horse-Drawn Carriage
Experience the ultimate storybook ending in a horse-drawn carriage. Buggies can fit between two and six passengers—so you can even bring your wedding party along, or rent a few carriages to lead the entire wedding party on a royal-style procession. Depending on where you are getting married, some cities offer pedicabs—which are a playful getaway if you love the idea of a classic horse and buggy, but prefer a more modern feel.
Wedding Transportation Ideas for Groups
Are you hosting wedding events in different loca-tions or at different venues? Do you have a lot of out-of-town wedding guests in attendance? Are you looking for awesome wedding transportation ideas for the wedding party? If so, explore these unique group transportation methods for your wedding travel needs.
5. Shuttle Service
This is one of the most tried and true wedding transportation ideas on this list. Take the guesswork out of wedding trans-portation by booking a shuttle for your guests. Many hotels offer shuttle service to and from local venues, or couples can research local shut-tle companies operating in the area. Additionally, group shuttles come in a variety of sizes and price options, making them suitable for a variety of wed-ding budgets and sizes. 
6. Stretch Limo / SUV Limo
A classic option, the stretch limousine combines formality and function with a sleek design and enough room for your wedding party and parents to feel like VIPs too. (Most stretch limos hold 8 to 10 passengers.) Or hop in a town car, which is basically the sedan version of a limo and seats up to four.
For a limo-like experience with a little more flash, check out a stretch Hummer, Escalade or Naviga-tor. These mega-SUVs come with fiber-optics, disco lights, lasers, mirrored ceilings and top-notch sound systems, and they can fit up to 20 people.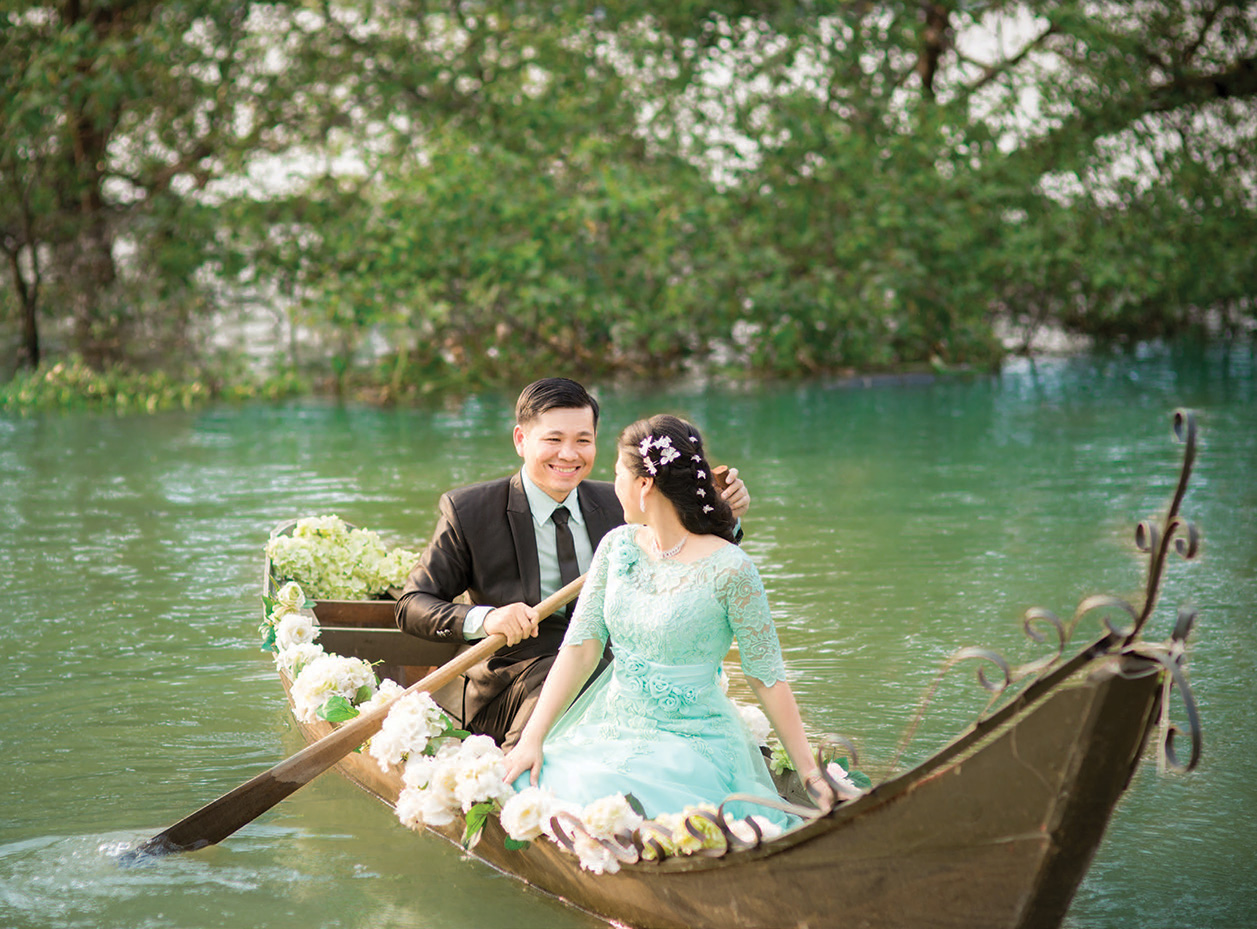 7. VW Bus
If you're hosting a '70s-themed wedding, or are a lover of nostalgia, use a vintage Volkswagen bus for wedding trans-portation. Reserve a classic bus, which can hold up to 12 passengers, or book the new-est version of Volkswagen's electric micro-bus, which can hold up to eight.
8. Trolley
Taking a trolley ride used to be reserved for San Franciscans or New Or-leans. But thanks to the modernization of cable cars, however, many modern travel and ride services offer trolley transporta-tion—even in Shreveport-Bossier.
On average, trolleys can accommodate between 20-35 people, making them ex-cellent options for carrying your wedding party or the entire guest list for a small, intimate wedding—and make great photo backdrops.
9. School Bus
For a blast from the past, a yellow school bus holds 40 to 50 passen-gers (just make sure it's properly air-con-ditioned for your guests' comfort).
10. Hayride
Hosting a rustic wedding? Get your guests excited for some fun on the farm. Ride to your gorgeous rustic wedding with the rest of the wedding party on an old-school country hayride. Hitch a wagon to a tractor or truck and see your guests smile as they watch you arrive (and exit) in true farm fashion. Keep guests from getting their shoes muddy and offer a ride from the parking lot to your outdoor ceremony location. Keep the wagon hitched up during the ceremony and offer guests a ride to the re-ception afterward.
11. Party Bus
The ultimate wedding trans-portation idea for couples who appreciate a great party and an epic entrance—traveling in a party bus ensures the wedding week-end festivities never stop. Invite your guests (usually up to 40 per bus) along for the ride, complete with a bar, lights and music. If you're planning on popping open some drinks, triple-check that the rental compa-ny is licensed with the local municipality.
Transportation Ideas for Weddings on the Water
Are you getting married lakeside, on the coastline, or even on an island? Take ad-vantage of the setting and travel to your wedding on the water.
12. Sailboat
Whether you're hosting a lake wedding or getting married on the beach, you're sure to leave your guests in awe when you arrive or depart on a sailboat.
13. Yacht
Any ceremony that includes travel-by-yacht is sure to impress your wedding guests. A fantastic option for destination weddings and seaside cer-emonies, yachts come in many shapes, sizes, and styles. With the ability to host an entire wedding or carry the couple only, yachts are a luxurious and flexible wedding transportation option — if it fits within the budget.
14. Ferry
Book a ferry boat for coastal wedding transportation service. A popular choice for destination weddings, bring guests to your wedding ceremony or bid them farewell on a ferry boat. Ferry boats vary greatly in size, from smaller commercial ferries transporting 300 people or less to massive boats than accommodate over 5,000 peo-ple. The Staten Island Ferry, for example, can hold 5,200 passen-gers at once.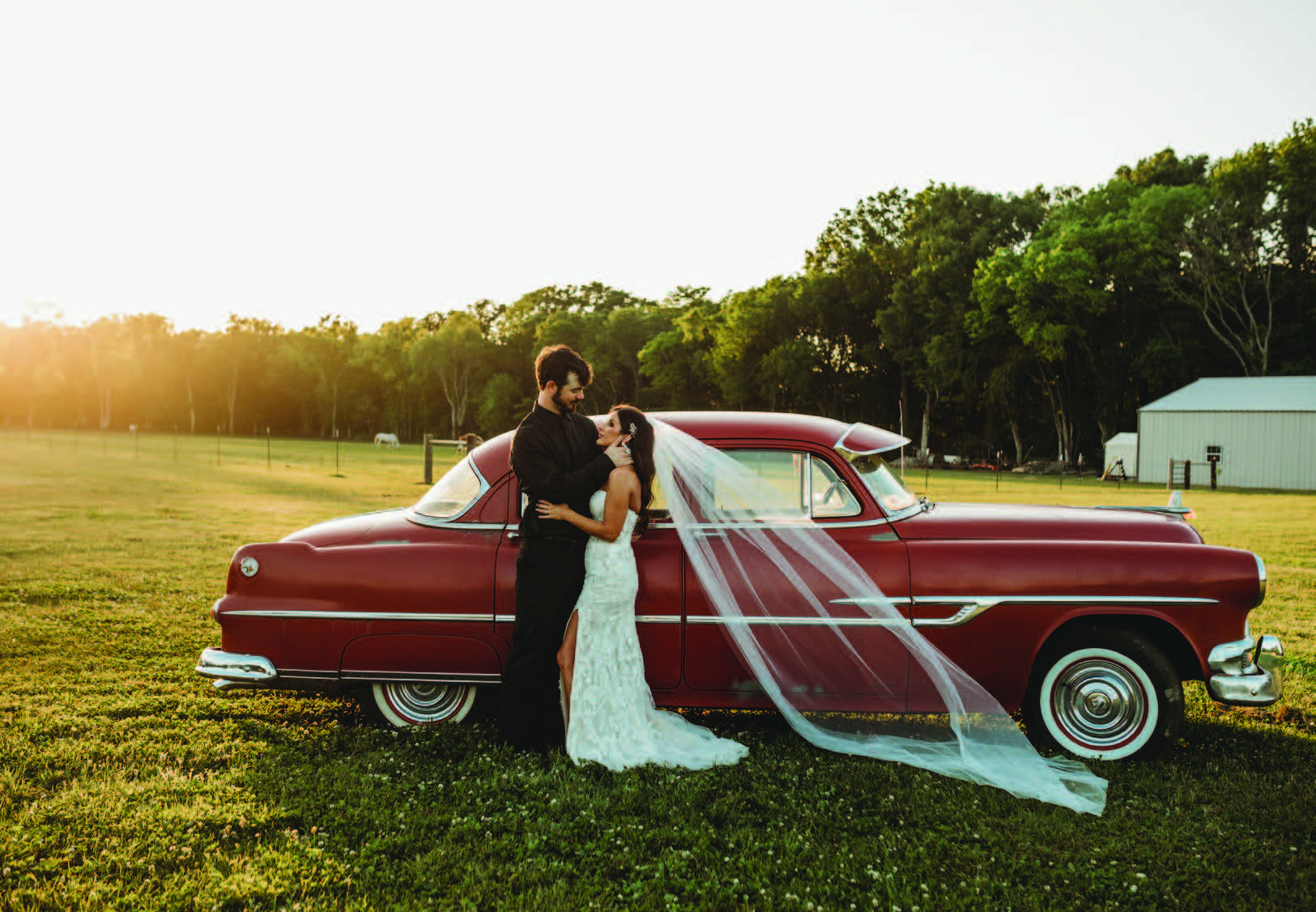 Transportation Ideas for Adventurous Couples
Finally, here are some options for couples who appreciate excite-ment and like to live on the edge.
15. Paddleboarding
Perfect for an adventurous couple, row your way across the water on paddleboards. Just make sure you prac-tice a lot before the big day!
16. Canoe
Another great transportation idea for weddings near the water. While there's a higher-than-zero risk of getting wet any time you step into a canoe, making an entrance in one definitely makes a statement.
Use a small canoe for the bridal entrance or the newlywed send-off or rent a larger canoe with multiple seats to accommodate the bridal party. For a wedding party entrance, however, it is recom-mended to designate non-wedding party people to steer the canoe.
17. Tandem Bicycle
After the reception, hop on a two-seated tandem bike and pedal away with your partner. A low-cost and fun wedding transportation idea for couples with some quirk, riding a tandem bike is sure to lead to adorable wedding photos. Be sure to practice beforehand to find your rhythm to avoid an unfortunate wedding day accident.
18. Horseback
You can certainly arrive at your wedding in the classic horse-and-carriage, but you can also choose to take it up a notch. Ad-venturous couples can opt to forgo the carriage altogether, arriving at the ceremony on horseback or literally riding off into the sunset.
This idea is great for wedding parties who enjoy riding horses or have some experience. Picture the look on your guests' faces when they see a line of groomsmen riding into a wedding on horseback with the groom leading the pack.
19. Helicopter
If you want a wedding day that unfolds like an action movie, make a grand en-trance or an epic exit by flying in on a helicopter. A chartered heli-copter can typically carry three to six people, in case you want to take your attendants along for the ride. Keep in mind that you need a certain amount of open space to land a helicopter safely, and local air travel laws can ap-ply. Consider your reception lo-cation and check for restrictions with the charter company when making your choice.
20. Hot Air Balloon
Thrill-seek-ing couples can bid their guests a heartfelt adieu as they travel up, up, and away in unforgetta-ble fashion.
Tips for Booking Wedding Transportation
To help get you started on the wedding transportation planning process, here is a shortlist of helpful tips to help you plan, book, and communicate wedding transportation details.
• Brainstorm Transportation Ideas and Book Early. Confirm wedding transportation bookings, reservation information, and other details early. Experts recommend booking 4-6 months before the big day. Share transportation information with wedding guests on your wedding website and encourage guests to confirm their travel plans early.
• Offer Transportation if You Change Venues.
If the wedding reception is taking place at a separate location, and the travel time between venues is more than 10-15 minutes, couples should plan to provide wedding transportation for guests. If there is a significant time gap between events, or the travel distance is significant, you may see the number of attendees drop between wedding events. Offering transportation can help prevent this problem, as well as ensure that the reception starts on time.
• Book Transportation for Wedding Guests.
Providing guest transportation is typically necessary
for destination weddings unless the wedding venue and reception are within walking distance of the guest hotel, or the guest hotel is providing a shuttle to the venue. In high-demand destinations, transportation demand is often high as well, and availability may be limited. Ask the planning professionals at your destination wedding venue for recommendations, and book wedding transportation early.
• Don't Forget the Wedding Party.
Engaged couples have a million things on their plate on the day of their wedding, and wrangling members of the wedding party is not a task they should have to manage. Keeping the wedding party together as you move from event-to-event can help ensure that the wedding day goes smoothly, and that wedding participants are where they need to be when they need to be there.