If you were a child of the 1990s, you knew about the Mighty Morpin' Power Rangers.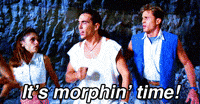 Debuting in 1993, the series focused on five "teenagers with attitude" whose sole purpose was to defeat evil. A few episodes in, a new teen character emerged that would change the face of the series forever — Tommy Oliver.
SBC Anime Festival hosted Jason David Frank this weekend, the actor who popularized the series as the Green and White Rangers. Frank, who is a martial arts instructor, is currently still working on products centered around the franchise including a YouTube series and games.
Frank, who lives in Houston, name-dropped a fellow Shreveporter during his panel discussion at the Bossier City Civic Center — tattoo artist, James Clements. Fun fact: Frank said he used to get work done by Clements when he lived in Corpus Christi.
If you didn't get a chance to meet "Tommy" today, he will be at the SBC Anime Festival Sunday, as well. Until then, enjoy our Q&A with the actor below:
This year marks the 25th anniversary of Mighty Morphin' Power Rangers. What's it like to just take a second and reflect? It's weird that a lot of people who were 35 grew up watching me, and I'm about to be 45. It's definitely crazy. It makes you feel old, but 25 years is hard work. A lot of people think it's an easy job or say "I wish I had your job." They don't understand the work that goes into it. I'm traveling, I'm on airplanes, trying to balance everyone and trying to make everyone happy. 
What's the appeal about doing smaller cons like SBC Anime Festival? I wanted to. Greg (Hanks) does good shows. AVC hits good. … There are a lot of people here who can't go to San Diego, can't go to New York. It's expensive. So to bring a con here? That's why I do smaller shows. San Diego wanted me to stay. Everyone was trying to offer me more money. It's not about the money. It's about my word. I do these shows. … I come on my own time and come with my own rules.
What's it like meeting fans at these smaller shows? A lot of fans are nervous, so if you don't have an outgoing personality, your line will just be like this (dead). You have to dig. The last person has gotta be treated like the first. There are a lot of celebrities that just don't like it. I see them all the time. I think "Why are they doing it? Do they need money, or it's their job?" It's not my job. This is something I do as a hobby, and it's turned into a real big hobby.
What's an average day like, sans traveling and doing shows? I'll wake up. I'll work out. A lot of recovering. Weekends like this, for me, I don't sleep that much, but weekends I try to chill, but it keeps me antsy. I'll work out, do a staff meeting at my school, go on social media  — the tedious things like laundry. I'm living out of suitcases. I have no time to register my car. There's no time to do normal things.